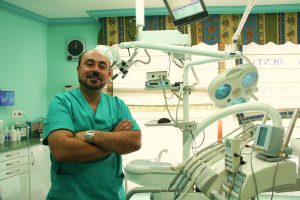 Our Dental Clinical Facilities are designed for patient comfort.  Combining the latest technology, and of course, extensive training and experience, enables us to stand out for the quality of our treatments. Over the years, we have developed a working technique that ensures the patient the least number of visits, reduces discomfort, suppresses pain, and guarantees successful interventions
Patient satisfaction is our ultimate goal. To achieve this, we carry out an initial consultation in which we figure out the medical history of the patient, examine him or her, assess his or her case, and indicate, if necessary, any necessary additional tests. On this first visit, the patient will be given a briefing document describing the diagnosis, indicating the treatment options, and the corresponding budget.  Also, in this first meeting we will help the patient visualize and understand his virtual treatment through audiovisual means, and in the same time address any related questions he or she may have.
We like to maintain a close personal relationship with our patients.  We want our patient to feel comfortable, and do our best to reduce, as much as possible, her or his level of anxiety.
---
We put our experience and technical means at the service of our patients and we are distinguished for the following reasons:
---
Provide our patients a professional and personal treatment.

Guarantee excellence in the treatment we carry out.

Draw on our long history of experience on complex treatments.

Use the best available dental materials.

Continued education and training of our staff allows us to improve every day.

Apply advanced technology and use modern facilities.

Ensure optimum cost – service relationship.

Guarantee all our work

Offer finance scheme tailored for each patient (up to 12 months

without interest and financing for up to 5 years).

Grant especial group rates.
Issue personal identification cards for our patients.
Provide accessible patient attention service.
---
---
We also provide for our patients the following services, TOTALLY FREE:
Emergency checkup
Annual / semi-annual review
Pre & post operation follow up
Removing stitchesInitial examination
Annual fluorine application
Access to educational videos
Chlorhexidine aply
Teaching of proper brushing techniques
Intraoral camera visualization
Implant planning
Cementation  / re-cementation of crowns
Cementation  / re-cementation of provisional crown
Prosthetic adjustmentsOcclusal analysis  & Tests